In February 2023, an article on History in Memes claimed that bars in Istanbul, Turkey, once employed people to carry drunk patrons home. The article included a picture showing a supposedly drunk man in a wicker basket carried by a porter. 
We found the same photo and similar text on a Reddit account in 2019, on a Facebook page of The Irish Post, a news outlet, in 2020, yet another article the same year, and on Twitter in July 2021 and several similar posts online.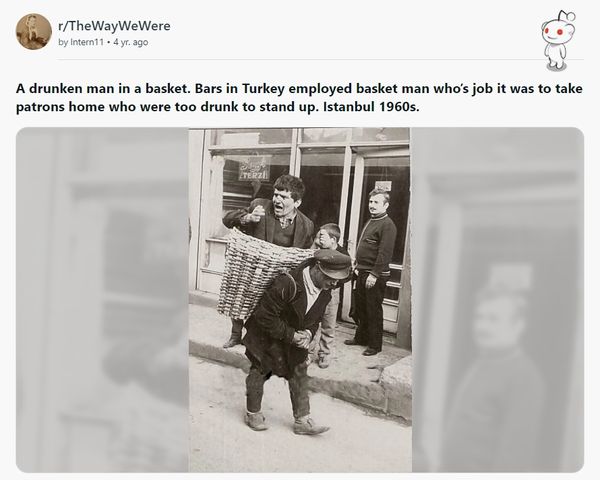 (r/TheWayWeWere/Reddit)
Based on a TinEye reverse-image search, one of the earliest online instances of the use of the picture was in February 2017. None of these posts mentioned the original source of the photo. Additionally, based on image searches on Google and other search engines, the photo does not appear to have been published in any historical archives or scholarly or popular publications.
However, Professor Resat Kasaba of the Turkish and Ottoman Studies Program at the University of Washington and a monthly commentator on Voice of America (Turkey), vouched for the accuracy, if not the origin, of the photograph. "You can assume the photograph is accurate," Kasaba told Snopes by email.
Additionally, a similar photo attributed to Hilmi Şahenk, a Turkish journalist and photographer who worked for Hurriyet newspaper in Turkey, documented the practice of porters carrying drunk men home. A Twitter user also shared a photo of a porter carrying a man with a bottle, apparently drunk, in a basket. The tweeter wrote, "there are so many in movies."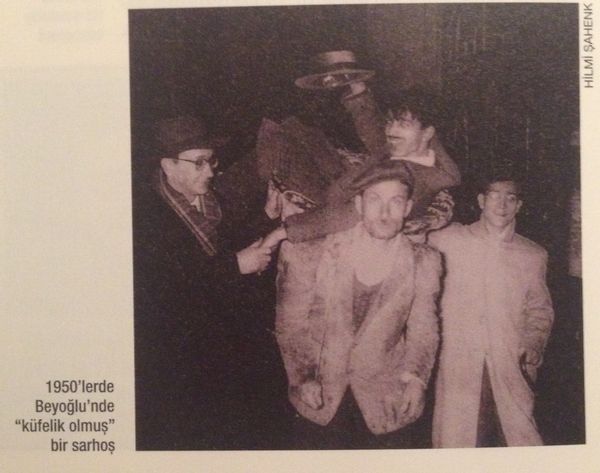 (Image Via Hilmi Şahenk)
Moreover, on page 23 of a book, "Raki: The Spirit of Turkey" by Erdir Zat, editor-in-chief of the "Raki Encyclopedia," wrote:
In the old days, porters had an interesting way to increase their earnings: They would wait at the door of a meyhane, and when a customer become too drunk to stand, they would take him home in their large baskets, called kufe. This led to a slang term, kufelik, or "plastered" – a literal "basket case."
Raki is an alcoholic drink popular in Turkey. "Meyhane" is Turkish for "tavern."
Kasaba also confirmed the accuracy of these reports of a "basket man" tradition. "I don't (know) how far into 1960s this tradition continued but it is well known in Turkey and the phrase 'kufelik olmak' is still used to describe extreme drunkenness." Explaining the meaning of the phrase "kufelik olmak," he said, "The correct translation would be something like 'so drunk that he is fit to be carried in basket'."