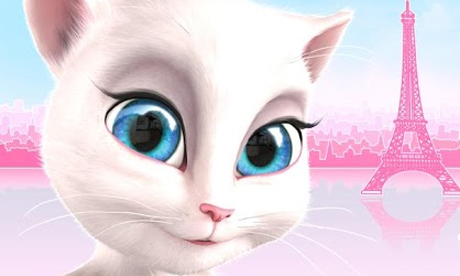 Claim:
The Talking Angela app unsafely prompts children to provide personal information about themselves.
| | |
| --- | --- |
| | FALSE |
Examples:
[Collected via e-mail, February 2013]
WARNING FOR TO ALL PARENTS WITH CHILDREN THAT HAVE ANY ELECTRONIC DEVICES , EX: IPOD,TABLETS ETC .... THERE IS A SITE CALLED TALKING ANGELA, THIS SITE ASKS KIDS QUESTIONS LIKE: THERE NAMES, WHERE THEY GO TO SCHOOL AND ALSO TAKE PICTURES OF THEIR FACES BY PUSHING A HEART ON THE BOTTOM LEFT CORNER WITHOUT ANY NOTICES. PLEASE CHECK YOUR CHILDREN'S IPODS AND ALL TO MAKE SURE THEY DO NOT HAVE THIS APP !!! PLEASE PASS THIS MESSAGE ON TO YOUR FRIENDS

---

ATTENTION PARENTS & GRANDPARENTS! My future daughter-in-law just received this warning from a friend on her page. Do not let your child download the Talking Angela app! It is very creepy! Gracie downloaded it without asking to her kindle fire because it was free and a really cute cat. She brought it to me to answer the question it asked. I immediately noticed it had activated the camera. It had already asked her name, age, and knew she was in the living room! I immediately deleted it!

Origins:

"Talking Angela" is not a web site, but an iOS app available through

iTunes

that provides a cute interactive feature for youngsters: when children activate the app and respond to prompts to interact with it, Angela, a cat who inhabits an outdoor table at a Parisian cafe, responds to their gestures and mimics what they say back to them in her French-influenced stylings:

As noted at Sophos'

Naked Security

site, however, warnings that the Talking Angela app are prompting children to behave in ways that raise privacy concerns are unfounded — "Talking Angela" is just another entry in a series of similar harmless apps for kids created by the same developer:

The truth is that "Talking Angela" appears to be entirely benign, and there are no obvious privacy concerns that differentiate it from thousands of other iPhone apps.

Indeed, the "Talking Angela" app is no different from other similar popular children's apps from reputable iOS developer Out Fit 7 Ltd, including "Talking Tom Cat", "Talking Ben the Dog" and "Talking Gina the Giraffe".

A representative from Out Fit 7 also told us that:

We wish to emphasise that no personal data whatsoever is being collected from the users of our app Talking Angela, which is available as an iOS, Android and Facebook app.

The description clearly informs the user that one of the core functionalities of the app is chat, which requires two-way communication, where Angela (a chat bot, not a real person) answers with text and voice in English and talks to the user about a variety of subjects.

The data collected by the app from the user is not shared with anyone and is actually sent to Out Fit7 only in the form of an anonymized data log (no names, no numbers, no personal data). This fact is clearly disclosed within the description of the app.

The screenshots within the description clearly show that the app enables the user to take a picture of himself/herself and share those pictures to social media services like Facebook or Twitter. This is only done if the user wants to do it and the photos are not sent anywhere else.

Last updated:

30 September 2013

Urban Legends Reference Pages © 1995-2013 by Barbara and David P. Mikkelson.
This material may not be reproduced without permission.
snopes and the snopes.com logo are registered service marks of snopes.com.